With Arsene Wenger being given a two-year deal despite the outcry of many Arsenal fans, there is, at least, a sense of urgency felt around the club again; they want to send out their longtime boss out on a high. To bring Wenger some final success as a Gunner, the club knows that it needs to make marquee signings, as they have done with Alexandre Lacazette and Sead Kolasinac, but it will be more crucial to keep their star players.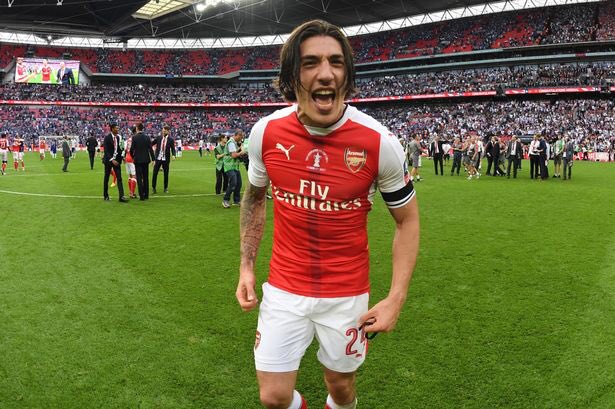 Two rumour mills that have been spinning this summer have been that of right-back Hector Bellerin and forward Alexis Sanchez. Luckily, despite renewed interest, Barcelona have been unable to land Bellerin despite spending as much as
€56 million
on trying to fill their Dani Alves-sized hole. Delayed by his extended summer break – following participation in the Confederations Cup with Chile – Alexis Sanchez remains a Gunner despite being pursued by big clubs around Europe.
Despite the need for signings, keeping these star players will be more important to the future of Arsenal than any potential transfer, and luckily their's good news on both fronts.
Bellerin commits his future to the Emirates
Still only 22 years old, Hector Bellerin has been a major part of the Arsenal team and the shining light in an otherwise dysfunctional defensive unit. The Spaniard has been strong in attack and in his own half, so there's no wonder why the team that the Gunners signed him from, Barcelona, want him back.
However, Bellerin has reportedly quashed rumours regarding a potential reunion with the Catalan giants, saying that a move away from Arsenal would be a betrayal of Wenger. The Spaniard's decision to stay rather than go for a very tempting deal to La Liga shows that the team is ready to fight for silverware in 2017/18.
Alexis Sanchez seems to be staying
It's been one of the biggest stories of the summer: will Alexis Sanchez leave Arsenal? He's entering the final year of his contract, so naturally, the club wouldn't want to lose the world-class Chilean for free in July 2018. Sanchez's contract status has alerted many big-name, big-spending clubs from around Europe which, at one stage, looked to have achieved the goal in tempting Sanchez away.
Among others, the big name leaders have been Manchester City – led by Sanchez's manager when the two were at Barcelona, Pep Guardiola – Paris Saint-Germain, and Bayern Munich. Luckily for Gunners fans, the bookies – who often have their fingers on the pulse of the transfer market – have Sanchez to stay at Arsenal at 4/5, along with Bellerin to remain at 1/8. The duo to stay could make for a good Request A Bet double to both remain in the Arsenal red next season; bettors can see here for further details on how to use the free service.
The likelihood of Sanchez's departure has been further decreased by Arsene Wenger saying that he is not for sale, as you would expect from a manager wanting to keep his top goal scorer. However, that hasn't stopped PSG from continuing to pursue the star. The big-spending French club suffered an almost embarrassing campaign last season, coming up short of Ligue 1 to the very young and vibrant AS Monaco, so they're looking to get back on top as soon as possible.
The big game hunters are, however, Manchester City, who have been making a huge splash in the transfer market this summer. Having already bolstered their ranks with Kyle Walker, Bernardo Silva, Ederson, and Douglas Luiz, Pep Guardiola's side is even closing in on signing two more top-class full-backs, and they've been openly pursuing Alexis Sanchez.
Going to Manchester City is the worst-case scenario for Arsenal, not only would they lose one of their, if not their best player, but it would be to a title rival who are already favourites to win the league next season; thus shooting themselves in the foot twice over. Arsenal are not willing to let Sanchez move to the Etihad, and if a transfer is to go through, it would preferably see him on his way to a club abroad, such as PSG or Bayern Munich.
Promising signs for Arsenal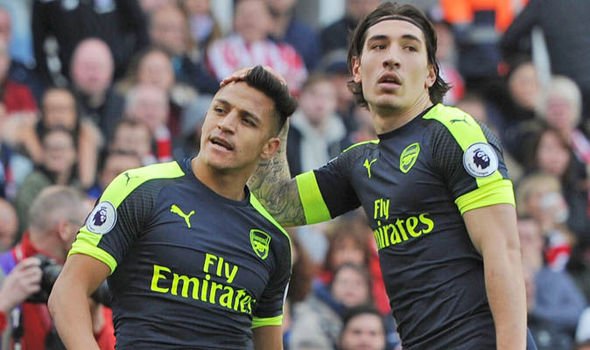 Luckily for the club and the fans, Arsenal are favoured to keep both their prized right-back and top goal scorer for the upcoming campaign.
There is, however, many days left in the transfer window, but hopefully, the Gunners can keep a hold of Hector Bellerin and Alexis Sanchez as the amount that the two contribute to the team would be extremely hard to replace.