Arsenal kept themselves in the race for the top three after a 1-0 win over Norwich City.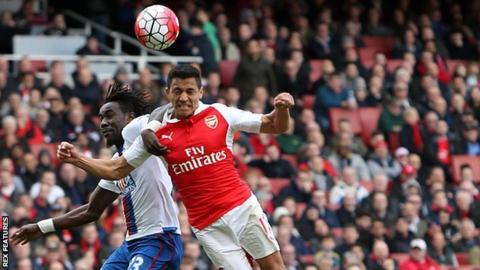 This allowed them to take full advantage of Manchester City's 4-2 loss against Southampton. The gunners now have a three-point advantage over City with two games remaining. More importantly, they can now afford to slip up in the next league match against City, but Manuel Pellegrini's team can take advantage of their slightly better goal difference. Arsenal's struggles in front of goal continued in the game against Norwich, who are threatened against relegation.
The gunners have now scored only three goals in as many games and this is not sufficient to reduce the goal difference deficit compared with City. Still, getting three points gives the team morale boost and they will be hoping that City are tired following their Champions League exertions against Real Madrid in the midweek. There are several aspects that still have to be improved like the form of striker Olivier Giroud. The Frenchman has been struggling in front of goal for quite a while now. He has managed to score only once in the last 21 games of all competitions and once again failed to find the net during the weekend.
For a striker who was in impressive form in the first half of the campaign, this sudden dip in form is quite alarming. Yet, Arsenal can take comfort from the former striker Danny Welbeck, whose return from injury could not have been timed better. The England international was seen as a backup to Giroud 12 months ago, but he has now scored four goals from six league starts including the winner against Norwich. His recent form gives the player enough confidence that he can be part of the Euro 2016 it "Our game lacked a little bit of pace and penetration. It was a bit one-paced," said Wenger.